I've been doing my best the past two weeks to find my strength training mojo. There was a time when I was happiest in the gym lifting weights. Lately, I think it's a good day if I drop and do 15-20 pushups and squeeze in my 5 minute workout.
Luckily, the gang at JD Sports knows the way to a girl's heart. While I'm loyal to Mizuno these days for all things running, as soon as JD Sports offered me a complimentary pair of trainers, I knew I wanted to finally try the Nike Free shoes.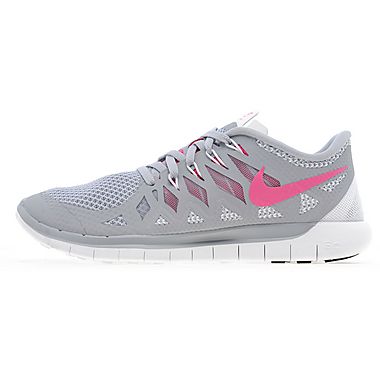 Over the past year I've seen the Nike Free shoes everywhere from Instagram posts, my friends, magazines and almost every department store. I resisted buying them as my closet is already filled with multiple pairs of shoes for both running and lifting, but I thought that this was the perfect opportunity to treat myself. JD Sports offered 10 different Nike Free 5.0 colors but I knew immediately I wanted the grey, vivid white and pink model. The more subdue colors mean that this shoes can be used for cross training at home or the gym just as much as it can double as a touring shoe when we explore new cities.
Part of the crosstown running range they are super breathable due to the full mesh body and only weigh 8.2 ounces and is very well cushioned. Super flexible, this is the perfect shoe for packing as you can actually roll it or smush it to make more room in your suitcase! I loved the cushioning when doing jumping jacks, burpees and even short sprints during my workouts. Overall, the shoe is great except for one issue – the sizing. It is definitely not true to size. I messed up the UK to US conversion, ordering a size 12 and they actually fit when I wear socks. Clearly they run a bit small as I normally wear 10.5 or 11.
Thank you JD Sports for letting me test out the shoes I'd been dreaming of and motivating me to start doing strength training. It's 10x easier when a cute pair of shoes get to be worn for the workout!
Don't take my word for it though – for just $8.00 JD Sports will ship just about anywhere in the world including Switzerland, Tanzania, Thailand, and the US to name a few! But, for a limited time, they are offering free international delivery when you spend £75